Dedicated To Helping Veterans And Their Families Live Better Lives
Spreading Our Message
Our work with veterans has been featured on major television networks and also written up in well-known news media…
See More Media…
Some Of Our Accomplishments
9-11 Bike Ride To Washington DC
NJVN and Operation Rebound raised over 10,000 dollars after completing a bike ride in 22 hours from Mountainside, NJ to Walter Reed Military Medical Hospital, Washington DC
Covid Relief For Veterans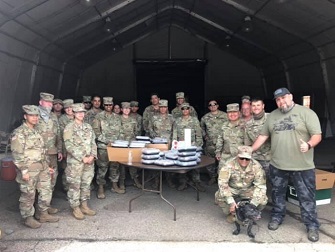 During the Covid crisis, we have provided food for over 4,000 veterans, thousands of PPE gear and thousands of containers of hand sanitizer for veterans
Disaster Relief Collections
NJVN collected over 1000 survival backpacks and 25,000 dollars for the hurricane victims in Florida, Puerto Rico and Texas
Memorial Day Parade Bike Ride
The New Jersey Veterans Network team marched in the Memorial Day parade and took a bike ride to honor fallen soldiers
Car Donation For Veterans
The New Jersey Veterans Network gave away four cars to disabled veterans through the Geico Recycled Rides program.
Camping Trip For Veterans
The New Jersey Veterans Network held a camping trip for veterans from veteran hospitals and shelters
What We Do
We are a group of veterans and volunteers dedicated to helping our veterans and their families live better lives. Our team is raising awareness of our veterans needs by organizing public speaking engagements, meeting with business and political leaders across the state and sponsoring fundraising events.
Learn More…
Our Mission
To identify veterans and connect them with resources and programs designed to meet their unique set of needs. To ensure that EVERY single one of our veterans, who have sacrificed so much for this great country, receives the resources that they require and deserve.
Learn More…
How We Do It
Identify a volunteer in the local community to be the single point of contact (CVL)
Identify veterans in their local community
Identify and evaluate programs in the local community.
Align veterans with programs and resources based on their set of unique needs.
"Every day, nearly 22 veterans take their own lives. Our team is saving lives and providing a better way of life for our uniformed heroes."
Michael D. Boll, President of New Jersey Veterans Network and United States Marine Corps Veteran
"New Jersey Veterans Network and Operation Rebound run by Michael Boll is the best charity organization available to Veterans in the NJ area. With the resources they have, any need a veteran could have will be met. If there is any veteran out there that needs any kind of help, NJVN and Operation Rebound is the way to go without a doubt"
Ryan Wares – US Army Veteran and Operation Rebound Racing Team Athlete
More Testimonials…
Are you a Veteran?
Our team is a group of veterans whose mission is to help our fellow brothers and sisters. Whether you need some support, interested in volunteering or want to say hello. We would love to hear from you!
Get In Touch…
973-332-1556
Want to help our Veterans?
Become a sponsor or join our team and help us provide a better life for our heroes.
Join..
"The New Jersey Veterans Network and Operation Rebound are two truly inspiring organizations. With camaraderie at its core, our disabled heroes gain a sense of belonging which for me has been the biggest help over the last several years. "
Jimmy Ludolph, US Navy Veteran
Please Donate
Contributions to New Jersey Veterans Network will directly help our veterans. Your donations will provide services and supplies which will improve the lives of our veterans and their families. Thank you for your contribution.
Donate…