Michael Boll
President
Michael Boll has dedicated his life to charity and helping others. Following graduation from Union High School, he enlisted in the United States Marine Corps and served in Operation Desert Storm. Michael received an Associate's Degree from Rutgers University and joined the Township of Union Police Department. During his 25-year law enforcement career, Michael was promoted within his first few years and assigned to several specialized units. Throughout Michael's time at the department, he partnered up with numerous community and charitable groups, and spearheaded extremely successful fundraising campaigns for Autism Awareness, Special Olympics, Relay of Life, and other charities.
He also created several community-based programs such as the Santa in Blue, toy drive which collected thousands of toys and gifts for the area's less fortunate families and the "We are Union" community service initiative that hosts events and resources for children.
In 2017, he founded the NJ Veterans Network, (501C (3) a non-profit charity that aggressively seeks out veterans in need and provides them with the resources and solutions to live a better life. The NJVN has been able to assist thousands of veterans in need and is responsible for saving dozens of lives.
Currently, Michael is employed at the NJ State VFW where he continues to help veterans and their families daily.
Recently, Michael teamed up with state's veteran's groups, first responders, and the NJ legislature to establish the Uniformed Heroes Project, a mentor/peer support to assist with PTSD and suicide prevention.
Michael is an avid long-distance runner and triathlete and in 2017 he created the Operation Rebound Racing Team, a disabled first responder/ Veteran endurance racing team. Michael also writes for the Blue Magazine and Renna Media.
In 2023, President Biden and the White House selected Michael as a Community in Action Liason: Building a Better America team member.
Michael's service and humanitarian work is frequently featured on various national media outlets and major news publications. Michael was a highly decorated law enforcement officer and has received prestigious awards from national and state organizations.
Michael has received the following awards:
NJ Governor's Award for emergency services / US Congressional Certificates (2)
Presidential Volunteer Service Awards (2)/ NJ Senate/ Assembly Certificate and proclamations (10)
NJ VFW National Aide De Camp/ NJ VFW Loyalty award / NJ AUSA Patriotic Award
VFW National DE Camp award/ NJ VFW Silver and Bronze Commendation Medal.
NJ American Legion Veteran Outreach Award/ NJ JWV Charity of the Year
NJ Marine Corps Leagues Marine of the Year/ SOS Veterans Stakeholders Humanitarian Award
NJ Special Olympics Recognition Awards/ International Rotary Club Humanitarian Service Awards (2)
NJSA Service Award/ NJ BSA Good Scout Award/ Unico Humanitarian Awards (2)
Union Columbiettes Humanitarian Awards (2)/ NJ Golden Chance Award
Twp of Union Chamber of Commerce Humanitarian/NJ PAPA Award
Twp of Union Mayor's awards (3)/ Twp of Union Police Dept commendations (10)
Twp of Union Police Dept letters of Appreciation (7)/ Twp of Union PBA Service Awards (21)
Operation Sisterhood Service Award/ NJ Blue Magazine Writing Excellence Award
Frank "Doc" Schupp
Director of Outreach Services
Francisco "Doc" Schupp is a retired Army Medic/Iraqi War Vet, a Veteran Activist, a DJ, and an experienced Master of Ceremonies. Doc currently works full time providing therapy groups at New Bridge Medical Center and is the Director of Veterans Outreach Services for the New Jersey Veterans Network.
"Doc" (as nickname given to Army Medics) graduated from Kean University with a Bachelor of Science in Psychology and has diplomas in Behavioral Management and Behavioral Support from the Boggs Center of Development Disabilities of Rutgers University. He was also certified as a NJ State Behavioral Support instructor through the Handle with Care program. At Kean, Doc acted as President of the Military Veterans Club, completed an internship with the Kean University of Veteran Services and received the April Cohen Service Award for his work in the community while making the Dean's List one semester with a 4.0 GPA.
As an Army Medic whether at Walter Reed Army Medical Center the infamous 3rd Infantry Division or later through the National Guard, Doc took pride in taking care of soldiers as a medic. He served one tour in Iraq and retired from service in 2013 after 15 years of service and often still says that there is no better job in the world than taking care of heroes.
Doc continued to work in the military community and provides peer counseling for as well as manages resource events for veterans through his role as the NJVN Outreach Director. Doc and his ever-present sidekick Shadow (a therapy dog in training) often visit Veterans Shelters and Hospitals and creates field trips forthe veterans there.
Doc began his charity work in the community in 2014 when creating a yearly toy drive benefitting the hospitalized children of St Josephs during the Christmas Seasons. Doc is no stranger to hospitals and he has worked in hospitals throughout the state to include in Emergency and Operating Rooms and now in the Rehabilitation department of New Bridge Medical Center.
In 2020 in response to the COVID -19 Pandemic, Doc created and managed the Helping Heroes Program, a statewide mobile outreach program which partnered up Various nonprofit organizations to provide groceries, clothing, and financial assistance resources directly to Veterans and Veterans families who were in need statewide. Through Helping Heroes, Doc was able to manage over 4,000 hot meals being sent to over 60 different drops off location to include Veterans Shelters, Veterans Hospitals and frontline first responder heroes during the COVID-19 crisis. Doc concluded 2020 by managing a statewide food and toy drive involving several different organizations to produce Thanksgiving and Christmas groceries, hot meals and toy gifts for over 70 Veteran families and over 180 children.
Recently Doc, alongside NJVN President Michael Boll created and co-managed "Hero Day" a mobile stand down program where Veterans were brought televisions, computers, groceries, brand new clothing toiletries and set up with resources such as job finding assistance, financial assistance, and counseling directly to their homes. Hero day serviced Veterans as far north as Sussex county and as far south as Atlantic county. On Hero Day however Doc , Shadow and the rest of the team were able to show a little extra love to the Bergen County Veterans by teaming up with local group Strangers helping Strangers and Steve's burgers to deliver some tasty burgers and fries directly to Bergen County Veterans homes.
Doc has been lucky enough to be recognized throughout the years with honors such as the New Jersey Distinguished Service Medal, the North District Elks Veterans Award, County Commendations from Union and Bergen County, a enatorial Resolution, a Congressional Commendation from Congressman Malinowski and a White House Presidential Service Award. He was also the Keynote speaker for East Orange VA Hospitals' Veterans Day Ceremony. He is an experienced event and fundraiser manager and has produced dozens of events benefitting veterans.
Sara Abraham
Treasurer
Sara Abraham is the Treasurer of the New Jersey Veterans Network. In addition to her role as Treasurer, she is deeply involved in day-to-day operations, organizing events and networking with people and businesses. Sara's dedication to NJVN is a result of her deep love for this country and the patriotism and sacrifices made by our veterans and first responders. Her commitment to NJVN is a way for her to help the vets and first responders who now more than ever need recognition and real support.
Inspired by her brother's service in the Springfield Auxiliary Police, Sara decided to join in 2012 and continues to serve in this role. She is also very active in her hometown of Springfield, NJ where she has been a Committee Member of the Springfield Fall Festival since 2010 and the Chairperson of the Springfield Patriot's Day 5K. The New Jersey Veterans Network participates in this event which raises awareness and fundraising for veterans.
Sara was born at Christ Hospital in Jersey City, NJ, attended Jonathan Dayton High School in Springfield and studied business at Hudson County Community College in Jersey City and Kean University in Union, NJ.
James McGreevey
Board Member
Jim serves as the Executive Director of the New Jersey Reentry Corporation, which providescritically needed services to assist persons returning from incarceration to successfullyreintegrate into society. Those services include the integration of addiction treatment, soberhousing, employment and training, identification and legal services, and linkage to Medicaid andmedical and behavioral healthcare for formerly incarcerated persons.
The NJRC has ten reentry sites, which are Elizabeth, Hackensack, Jersey City, Kearny(Community Resource Center and The Governor's Reentry Training and Employment Center),Neptune, New Brunswick, Newark, Paterson, and Toms River. The clients of the NJRC have a19.7 percent recidivism rate, 10 percent incarceration rate, and annualized rate of employmentbetween 58 percent and 62 percent (seasonally adjusted).
He also worked with the women of the Integrity House Program at the Hudson CountyCorrectional Center in New Jersey. He guided and directed the Integrity House initiative'sspiritual counseling, as well as, counseled the women upon discharge.
Having pursued seminary education and training at the General Theological Seminary, Jimserved his field education working with formerly incarcerated women and men at ExodusTransitional Ministry in Harlem, New York City. He completed his pastoral care at the formerCabrini hospice and long-term healthcare center.
Jim previously served as New Jersey Governor, State Senator, State Assemblyman, and over tenyears as Mayor of Woodbridge, one of New Jersey's largest municipalities. He also served asRegional Manager, Merck and Company; as Executive Director, NJ State Parole Board; with theNJ Assembly Majority Office; and as Assistant Prosecutor in Middlesex County.
McGreevey received his bachelor's degree from Columbia College at Columbia University in1978. He graduated from Georgetown University with a law degree and was admitted to the barin 1981. He holds a Master's of Education from Harvard University and a Master's of Divinityfrom the General Theological Seminary.
Joe O'Neill
Director of Communications
In 2010, Benner's Auto Body was handed down to its current owner, Joseph O'Neill Jr. Joe Jr. has helped Benner's continue to uphold its core values of providing the best products and service available on the market and leading by example as an active member of the community.
Joe Jr. has significantly expanded Benner's community involvement from support of the Union County 200 Club, Memorial Sloan Cancer Center, New Policemen's Benevolent Association, NJ VFW, NJ American Legion, FDNY, Fisher House Foundation, Derek Jeter Turn 2 Foundation, Catholic Charities and countless others.
Joe Jr. also sits on the Board of Directors for the National Auto Body Council. He is committed to helping veterans live a better way of life. Joe Jr. has spearheaded numerous charity events and has provided new vehicles to countless disabled veterans.
Will Sheehan
Legislative Director
Will Sheehan graduated with distinction from the U.S. Naval Academy at Annapolis, while there he played Division I baseball for NAVY, studied a semester at The Queen's College, Oxford University, served as a Fellow for the Jewish Institute of National Security Affairs, and was a delegate for the Naval Academy Foreign Affairs Conference. Will is a former SEAL TEAM Intelligence Officer, and a veteran of Operation Iraqi Freedom. A seasoned leader, Will has experience serving in the highest branches of the United States Government – reporting directly to the President of the United States while deployed with Joint Special Operations Command. Will subsequently studied at the University of Pennsylvania's Fels School of Government. He currently resides in his hometown of Bayonne with his 9-year-old Australian Shepherd, "Mickey." A believer in the Marquess of Queensberry Rules and the power of public service, Will is dedicated to fighting for every veteran.
Debbie Skeete Bernard
Board Member
Born of Guyanese parentage in London England to Mr. and Mrs. Skeete, her family then traveled to the United States when she was three years of age. With such strong mentors and positive role model, the strongest influence being that of her mother Veronica Skeete, Debbie followed in her mother's footsteps as a nurse.
Debbie went to a diploma school in 1990, graduated from Kean University with her Bachelor of Science in Nursing in 1993. After graduating with her BSN, Debbie was commissioned into the United States Air Force as a second Lieutenant. When she started in the military, she met and married her husband Henry Bernard, RN ( and frater) in 1994. After 25 years, she has obtained the rank of Lieutenant Colonel and retired in May 2019. She has also obtained her Masters in Nursing/ Public Administration in 2001, Post Masters in Nursing Education in 2006, and a Masters in Health Care Administration in 2009.
Her career experience has been from critical care, to Sexual Assault Nurse Examiner ( SANE) for Essex County Prosecutors Office, to Acute Care Case Manager, deployed to Iraq as a Flight Nurse and today as a Nurse Health Educator at the War Related Illness and Injury in the Veterans Administration. Teaching undergraduate nursing students in the clinical setting has been and still is one of her passions. To facilitate the learning of students to be able to appropriately and effectively care for the under served is her goal.
Some of the awards bestowed:2015 Appreciation Award, Irightslanders Cultural Organization of New Jersey,2012 Veteran Day Ceremony Special Guest Speaker, City of East Orange NJ,2012 Community Service Award, Northern New Jersey Black Nurses,2005 Education Award, Concerned Black Nurses of Newark and2001 Professional Leadership Award, Kean University, Nursing
As an active member of Tau Chi Chapter Inc of Chi eta Phi Sorority Inc. she recently facilitated the chartering of the Tau Chi Beta, the nursing student undergraduate chapter where she is the Advisor. This as one of her most memorable accomplishments. She is also a member of Kappa Epsilon Psi Military Sorority. Ms. Skeete Bernard is also a mentor for Catholic Charities, where she has been working with an underprivileged child since August 2018.
Pastor Richard Starling
Board Member
Pastor Richard Starling has been serving in church leadership for over 35 years. He is the senior pastor of Christ community Church located in Union New Jersey. He is a third-generation pastor. He and his wife began their ministry in 1996 after being graciously released from their responsibilities at Christ Church in Montclair New Jersey Dr. David Island. He and his wife served faithfully for nine years. Where he led worship community groups and new membership classes among other things in which many souls were born into the kingdom of God. They are also the founders of the foundation for moral development which provides pastoral counseling since 2006 speaking at conferences and marriage retreats enriching the lives of other people. He is active in the community where he sets on several boards. Pastor starling and his wife Cheryl have been married for 33 years and from this union was born three children Kristina married and a graduate of FDU, Richard graduate of Seton Hall University and isaiah from whom came there first grandchild. He gives God all the glory for how he continue to bless him.
MaryAnn Imroth
Event Coordinator
MaryAnn Imroth is the Event Coordinator of New Jersey Veterans Network, which provides veterans a better quality of life through the donation of cars and housing, job assistance and mental health services.
MaryAnn is also the former volunteer Athletic Director of Team Red, White and Blue (RWB) Central Jersey Chapter where she engaged with service members, veterans and civilians to enrich their lives through social and physical activities. As an active runner, she believes the most genuine and productive conversations are those had while chit-chatting on pavement (and occasional trails).
MaryAnn served with the United States Army as a Military Police officer where she was assigned to the 66th MP Company in Karlsruhe, Germany for 3 years. From there, she worked at Lucent Technologies, Integra Life Sciences and currently works as Director of Audit Services for Wyndham Hotels & Resort.
MaryAnn believes the most important demographic is our service members and veterans and lives her life honoring our freedoms. MaryAnn has two sons, Matthew and Kyle and shares her life with her Super Patriot partner Howard.
Ziad Andrew Shehady
Board Member
Ziad Andrew Shehady is the Administrator of the Borough of Red Bank in Monmouth County, New Jersey, serving as the Chief Administrative Officer responsible for managing the total operations of the municipality. Shehady also serves as the Executive Director the Red Bank Redevelopment Agency. He was previously the Administrator for the Township of Springfield from 2016 through 2018. Shehady was elected to public office in 2007 and served three terms as a member of the Springfield Township Committee. Shehady served as Mayor of Springfield in 2010 and 2012 and Deputy Mayor in 2016. Shehady has previously held positions on the Springfield Planning Board, Springfield Board of Health, Springfield Free Public Library Board of Trustees and the Union County Solid Waste Advisory Board.
Following the terrorist attack on our nation on 9/11, Shehady enlisted in the military as an Infantry soldier in the Army National Guard. He served in the Global War on Terror in support of Operation Enduring Freedom from 2004 to 2005 and reached the rank of Sergeant before receiving his commission in August 2008. Shehady also served as the Assistant Operations Officer of the New York Military Entrance Processing Station in Fort Hamilton, Brooklyn. His awards and decorations include the Army Commendation Medal, the Joint Service Achievement Medal, Army Achievement Medal, Global War on Terror Expeditionary Medal, ahnd Military Outstanding Volunteer Service Medal. Shehady is the Adjutant of the historic Springfield American Legion Continental Post #228.
In 2003, Shehady began working for the New Jersey Legislature in District 21 where he was the Legislative Aide for the late Assemblyman Dr. Eric Munoz and Assemblywoman Nancy Munoz. In 2014, former New Jersey Governor James E. McGreevey hired Ziad Andrew Shehady as the Director of Operations for the Jersey City Employment and Training Program, the Martin's Place Reentry Program, Martin's Place Community Resource Center for the NJ Parole Board, and the Jersey City One-Stop Career Center.
Shehady has been a member of the New Jersey League of Municipalities Legislative Committee since 2012 and is a frequent panelist speaker at the annual conference. He is also a member of the Regional Plan Association New Jersey Committee. For more than ten years, Shehady has volunteered with American Legion Jersey Boys State, a leadership and citizenship program which he graduated from in 2001 and serves on its Board of Trustees. Community Access Unlimited honored Shehady with the Humanitarian of the Year Award in 2016. In 2018, he was appointed to the State of New Jersey Commission on Veterans' Benefits. Shehady was awarded his Bachelor of Arts in Politics, French and Linguistics from New York University.
Edward Chrystal
Board Member
Major General Edward Chrystal currently serves as the Land Component Commander, New Jersey Army National Guard. General Chrystal is responsible for the welfare, training and readiness off over 5000 soldiers assigned throughout the 44th Infantry Brigade Combat Team, 42nd Regional Support Command and the 57th Troop Command.
General Chrystal enlisted in the Army National Guard in 1985 and received his commission through the Seton Hall University Reserve Officer Training Corps program. He earned his Bachelor of Arts in Criminal Justice and a Master of Arts in Education from Seton Hall. He also holds a Masters of Science Degree in Strategic Studies from the Army War College.
General Chrystal has commanded at all levels to include platoon, company, battalion and brigade.
A veteran of Operation Iraqi Freedom, General Chrystal's awards include the Legion of Merit, the Bronze Star Service medal, the Meritorious Service medal, Army Commendation Medal, Army Achievement Medal, Global War on Terror Service Medal, the Humanitarian Service Medal and the Basic Paratrooper Badge.
In his civilian life, Major General Chrystal retired at the rank of Lieutenant from the New Jersey State Police after twenty-five years. He currently serves as the Superintendent of Veterans Haven North, a transitional home for homeless veterans in Glen Gardner, NJ.
General Chrystal lives with his wife, Georgette, and their three children in Scotch Plains, NJ.
Brigadier General Timothy S. McLaughlin
Board Member
COL McLaughlin is a 29-year veteran of the Army National Guard. Born and raised in Morristown, NJ, COL McLaughlin attended Rutgers University graduating with a Bachelors of Arts degree in Political Science. COL McLaughlin received his commission as a 2nd Lieutenant via the Rutgers Reserve Officer Training Corps Program (ROTC). COL McLaughlin is a graduate of the U.S. Army Infantry Officer Basic Course, Fort Benning, GA, the U.S. Army Ordnance Basic & Advanced Courses, Aberdeen Proving Ground, MD, the U.S. Army Combined Arms & Services Staff School (CAS3), the U.S. Army Command and General Staff School (Intermediate Level Education- ILE) and the U.S. Army War College.
COL McLaughlin has held various leadership positions throughout his career. COL McLaughlin initially served as a Platoon Leader and Shop Officer/Executive Officer in Company D, 50th Main Support Battalion. In 1996, COL McLaughlin assumed command of Company E (Missile Maintenance), 50th Main Support Battalion. Upon completion of company command, COL McLaughlin transitioned to battalion staff and served as the S2/S3. COL McLaughlin deployed to Iraq in 2004-2005 with the 50th Main Support Battalion, 42D Division Support Command, and 42D Infantry Division in support of Operation Iraqi Freedom III. COL McLaughlin was the principal Logistics Officer for the 50th Main Support Battalion coordinating external logistical support to elements of Task Force Liberty. Upon redeployment, COL McLaughlin was assigned to the 42D Regional Support Group serving in various positions to include Plans Officer and RSG S2/S3. COL McLaughlin was subsequently assigned to NJ JFHQ as the Maintenance Assistance & Inspection Team (MAIT) Chief. In 2012, COL McLaughlin assumed command of the 117th Combat Sustainment Support Battalion Commander headquartered in Woodbridge, NJ. Upon completion of battalion command, COL McLaughlin was assigned to JFHQ-NJ and served as the Chief, Surface Maintenance Management Division (SMM) and later the JFHQ-NJ G4. COL McLaughlin assumed command of the 42D Regional Support Group headquartered in Somerset, NJ on 01 FEB 17. Currently, COL McLaughlin is assigned to JFHQ-NJ as the Assistant Adjutant General-Army.
COL McLaughlin's awards and decorations include the Bronze Star Medal, Meritorious Service Medal with 2 OLCs, Army Commendation Medal with 2 OLCs, Army Achievement Medal, National Defense Service Medal with Bronze Star Device, Iraq Campaign Medal with Bronze Star Device, Global War on Terrorism Medal, Humanitarian Service Medal, Armed forces Reserve Medal with "M" Device and Silver Hour Glass, Army Service Ribbon and the Overseas Service Ribbon.
COL McLaughlin is employed by Pfizer Inc as a global corporate security director responsible for physical risk mitigation standards across the Pfizer enterprise. COL McLaughlin is Commander of Mountainside Memorial VFW Post 10136. COL McLaughlin resides in Mountainside, NJ with his wife Dorothy, and their four (4) children: Emily, Christopher (E-4, 102D CAV), Jonathan & Abigail.
Orlando L. Miranda
Board Member
SFC Orlando Miranda, is a native from Lima, Peru and grew up in Kearny, New Jersey. He entered military service with the United States Army on August 1, 1995 and attended Basic Training and Advanced Individual Training at Fort Leanoard Wood, Missouri where he obtained the Military Occupational Skill 88M (Transportation). SFC Miranda, upon discharge from Active Duty, enlisted directly into the New Jersey Army National Guard where he is still serving and an Active Guard Soldier.
SFC Miranda served as a Transport Operator, Section Sergeant, Platoon Sergeant, Assistant Operations Sergeant, Master Driver, and Operations Sergeant. His most recent assignments were the Medical Management Unit Operations Sergeant, 143D Transportation Company Readiness NCO; He currently hold the position of Assistant Operations for the 117TH Combat Sustainment Support Battalion.
Overseas assignments for SFC Miranda consists of two combat tours of duty in Support of Operation Iraqi Freedom (Noble Eagle) and a tour in Bosnia, Herzegovina (Operation Joint Forge) with the 1st Cav Division 2 Battalion, 8th Cavalry. His stateside assignments include: B Co 250th MSB, 253rd Trans Co, D Co 50th MSB, F Co 250th BSB, HHC 2-113th, Medical Management Unit, 143D Trans Co, HHC 117th CSSB.
SFC Miranda's military and civilian education includes Warrior Leadership Course: Basic NonCommisioned Officer's Course; Adavanced NonComissioned Officer's Course; Master Leader Course; Casualty Assistance Officer, Automated Logistic Specialist and Human Resources Specialist. SFC Miranda holds and Associates Degree in Arts and is currently enrolled in a Bachelor's Program of Hospitality and Tourism Management at Fairleigh Dickinson University.
He has been awarded the Army Commendation Medal (6), Army Achievement Medal (7), Army Good Conduct Medal, National Defense Service Medal (2), Global War on Terrorism Expeditionary Medal, Global War on Terrorism Service Medal, Non Commissioner Officer Professional Development Ribbon (4), Armed Forces Service Medal, Armed Forces Reserve Medal with "M" Device, Army Service Ribbon, NATO Medal, Driver and Mechanic Badge.
Dr. Wail Rasheed
Board Member
Dr. Wail Rasheed is an Islamic center of Union County ICUC community servant, an Educator, Pharmaceutical Scientists Ph.D., MBA. Medical Device Development leader, Developer and is a community activist. Professionally, over 27 years of working experience at Merck pharmaceutical company. Dr. Rasheed is very family oriented. He is a husband, father of 3 children, a son, a brother, friend and community member. He also serves the Union Township Human Relations Commission and Union County vote of registration captain. He serves as the chaplain for the New Jersey Veterans Network and Operation Rebound Racing Team.
He lead many community programs and projects such as Feeds the local homeless, tutors SATs students and participates in cleaning local parks and beaches. He also participated in Midnight Drive by to dress the homeless during the cold winter. He has adopted a senior citizen and visits him weekly. Dr. Rasheed participated in unity in the community initiative and feeds and dresses the homeless veterans in preparation for job interviews. He leads ICUC networks to find community members jobs and also helps support and improve local businesses. Dr. Raheed is the founder of the Islamic center, the weekend school and an active member of the interfaith community. Best of all, he loves the Union Township community!
Jan Caviello
Board Member
Janice is a proud daughter of U.S. Marine Sergeant Richard Paul McNeill. Her passion as a volunteer with NJVN is to be loyal and faithful to the mission of helping Veterans live better lives. She believes that no Veteran should ever be without anything they may need – food, clothing, housing, medical care, transportation, employment, guidance, love and friendship.
Her focus is to bring companion animals and Veterans together in future NJVN programs. She will also serve as an aide to promote and organize charity golf events, vacation retreats, dinner events and disabled Veteran's athletic events.
Her past volunteer experience includes introducing companion animals to nursing homes and day care center residents, service to Boy Scouts of America local dens organizing family camp outs, dinners and fundraisers, local government volunteer in the Environmental Committee raising state grant money for town sidewalk implementation, served as a head coach for town recreation leagues for Baseball, Softball, and Field Hockey leagues and serving as a Eucharistic Minister and Catechist for Catholic Charities.
She graduated Delaware Valley University with 2 degrees in Large Animal Husbandry and Small Animal Toxicology and utilized her skills in the Pharmaceutical Industry developing alternate methods to animal research.
Brandon Holiday
Board Member
Brandon Holiday (born January 25, 1972) is a Paracanoe Sprint Kayaker from the United States.
While growing up in Maplewood NJ, Holiday played various sports, tennis, baseball and training in martial arts. He also grew up with Systemic Lupus, Primary Addison's and a blood clotting condition (Antiphospholipid syndrome). After attending the University of Maryland Eastern Shore and Salisbury University, he became a police officer but an injury in the line of duty and medical complications from Systemic Lupus forced him to leave the Salisbury City police force.
In 2006, after four months in the hospital battling with blood clots, wound care and hyperbolic chamber treatments, doctors had to amputate his left leg below the knee. 10 months later attended the Extremity Games. Extremity Games is an extreme sports event for people with amputations and/or spinal cord injuries, hosted by Athletes with Disabilities Network. It was this competition athletes disabilities surf, rock climb, wakeboard and ride motocross. Since 2007, Brandon has won a bronze medal in mixed martial arts, silver medal in recreational kayaking and paddled his kayak into five gold medals at the United States Sprint Canoe Kayak National Championships, becoming the 2014 and 2015 K1, Paracanoe men's 200m & 500m United States Paracanoe Sprint Kayak Champion and the 2014 Master's 35+ Able Bodied 500m Champion, beating out able-bodied contenders in his age group. Over the past 9 years Brandon has been working with other disabled community members, veterans through adaptive sports and mentoring & outreach through Athletes with Disabilities Network Northeast Chapter.
In 2016, Brandon made the US National Paracanoe Team and traveled to Duisburg, Germany to compete at the 2016 ICF Paracanoe World Championships. World Championships in 2016 were the Paralympic qualifying competition for Paracanoe Athletes. He was unable to advance and qualify for the US, but his teammate, Alana Nichols, Kelly Allen and Ann Yoshida qualified and competed at the 2016 Rio, Paralympics.
On November 5, 2016, Holiday competed in the first ever amputee tennis tournament held at the Cherry Hill Racquet club. Brandon has also competed in 2008 at the Extremity Games in Michigan, winning a bronze medal in the Pancrase tournament. He is currently the Executive Director of Athletes with Disabilities Network Northeast, which is a non-profit that to promote a better quality of life for people with physical disabilities, especially for veterans and first responders by mentoring and creating awareness and offering opportunities for local athletic, recreational and educational activities. He created the Northeast Chapter to create a mentoring outreach program and adaptive sports program, which assists disabled community members heal with the help of paired mentors and use sport as a catalyst to healing.
Brian Ford
Board Member
Brian Ford has been a Police Officer with the Florham Park PD since 2003. In 2009 he was assigned to the Detective Bureau, in 2017 he was promoted to Detective Sergeant, and in 2020 was promoted to Detective Lieutenant. Brian is a member of PBA Local #78, the Florham Park Police Emergency Response Team, and Vice President of the Morris County Detective's Association. A former Boy Scout, he is also a Cub Scout leader for one of his two sons in their current hometown. Brian was born and raised in Union and is 4th generation law enforcement in his family.
Brian is one of the first members of the Operation Rebound Racing Team. Brian has completed several of our grueling events including a 200 mile, 22 hour bicycle ride to Walter Reed Veterans Hospital, two, 22 hour walks on the Wildwood boardwalk during the VFW conventions totaling about 84 miles, Relay for Life walks, a 1 day 100-mile bicycle ride in Wildwood, and several other hikes, 5Ks, and group events. Brian enjoys pushing himself during these events for three reasons, 1) to raise awareness for our charitable events and veteran suicide, 2) to be an inspiration and role model to his sons, and 3) because "there are millions of veterans who cannot do these events, either because of disability or because they made the ultimate sacrifice, it's the least I can do to show some level of appreciation."
Brian is an adjunct professor at Saint Elizabeth's University where he holds his Bachelors and Masters degree from. He has ridden in several Police Unity Tour rides, a 300 mile bicycle ride to Washington D.C. in honor of fallen officers. He and his wife, Kelly, have two sons, Charlie and Sam. They love RV'ing, hiking, learning, and animals. One of Brian's favorite roles in the team is "convincing Boll that every idea he comes up with is amazing."
Timothy R. Smith
Team Attorney
Timothy R. Smith, a certified criminal trial attorney (less than 1% of New Jersey lawyers have satisfied the rigorous requirements necessary to achieve such a designation), devotes much of his practice to criminal and disciplinary defense. He is vigorously committed to defending the wrongfully accused and to protecting the rights of individuals in criminal law and employment settings.
Smith was formerly employed as a police officer, detective, police union president and member of a Prosecutor's office legal staff prior to transitioning into private legal practice. These experiences motivated Smith to focus his practice in the area of criminal and disciplinary defense. These same experiences render him uniquely qualified to recognize the weaknesses in the charges brought forth against his clients.
As a defense attorney, Smith has extensive experience representing individuals charged with a wide array of criminal offenses and disciplinary charges. Smith has served as defense counsel in numerous notable, high profile cases, resulting in full vindication of his clients. Through these results, coupled with his background, Smith has gained the privilege and distinction of serving as approved counsel to represent the interests of the members of a number of public employee unions. As a corollary to his service in this capacity, Smith has acquired a keen understanding of the potential consequences that criminal charges may bear upon one's job, or prospective employment, especially in the public sector.
Smith's expertise spans federal, state, and municipal courts as well as administrative proceedings, and his practice areas include: domestic violence; expungements; D.Y.F.S. matters; traffic summonses (including D.W.I.); weapons forfeitures; public employee pension applications and appeals; appellate practice; and civil defense.
Over the years, Smith has served as an adjunct professor of graduate studies at Seton Hall University where he has taught Current Legal Issues, a course which focuses on individual rights in the criminal law and employment settings. He has also served as a private consultant to the Port Authority of New York and New Jersey instructing police recruits in the area of search and seizure.
Smith is admitted to practice in the states of New Jersey, New York and in the District of Columbia, as well as the U.S. District Court for the District of New Jersey and the U.S. Court of Appeals for the Third Circuit. Timothy Smith is also a legal analyst and contributing writer to the Blue Magazine (a law enforcement magazine for New Jersey).
Dennis Duddie
Veteran Service Officer
Dennis Duddie originally hails from the Bronx, New York. He is a member of a very unique group of veterans who served in two branches of the military. He proudly served in the United States Navy from 1992 to 1994 as a Damage Controlman.
After his enlistment in the United States Navy, Dennis went on to serve in the New Jersey Army National Guard from 1994 to 2001 as a Combat Medical Specialist in the 2nd Battalion, 113th Infantry Regiment based in River Dale, New Jersey.
After a four year break in service, he returned to the Army National Guard from 2006 to 2010 as a Combat Medical Specialist in the 1st Battalion, 114th Infantry Regiment based in Woodbury, New Jersey.
Most recently, Dennis was nominated to serve as the new Commander of Rochelle Park – American Legion Post 170. He assists veterans with benefit claims and helps homeless veterans find a permanent residence.
Dennis was a close friend of our late founder, Douglas DiPaola and continues as an important asset to the Homes for Veterans community.
Michele Matsikoudis
Board Member
Michele Matsikoudis is a sitting Councilwoman in New Providence where she has been living with her husband John and their three children for 25 years.
She presently has a career in Real Estate, but her experience has spanned multiple industries including Vice President in the Municipal Bond Department at Morgan Stanley for 15 years and Director of Business Development with Worth, Ltd.
In addition to having a full-time career, Michele has devoted time and energy not only to raising her family but volunteering in multiple community organizations.
Prior to being elected to the Borough Council, Michele served as a Board Member for the Simpson Baber Foundation for the Autistic. She was a member of the Communities and Activities Advisory Board, PTA President at both Salt Brook Grammar School, and the New Providence Middle School. In these community leadership roles, her most significant contributions included successful fundraising for the schools and initiating/ implementing programs and activities between the Middle School and the Recreation Department. During this time, she was also invited to participate in PBSIS, a character education and positive behavior initiative run through the NJ State Dept. of Education. New Providence Middle School was one of the few schools selected state wide to participate in the pilot program. She has also served on the New Providence Board of Health and the Economic Development Committee. Additionally, she was a board member of the New Providence Education Foundation where she assisted with their fundraising efforts. The Corporate Sponsorship Program, which she chaired, raised more than $125,000 during her tenure. The Foundation has raised almost $1,000,000 since its inception. These programs are still in existence today.
Presently, Michele sits on the Executive Board for the OCFA (an age friendly initiative), as a team member for the New Jersey Veterans Network and as an executive board member for the Mountain Valley Emergency Communications Center (MVECC) which includes NP, Summit and Millburn. As a member of Borough Council, she was recently appointed as the liaison for the New Providence Diversity Committee and the Sustainability team. In addition, during 2021, Michele is a member of Public Safety Committee and is on the advisory board for the New Providence Business and Professional Assoc. Michele is a co-founder of FLAG (Front Line Appreciation Group) of New Providence and serves as a Eucharistic Minister at OLP New Providence.
Michele regularly participates in several Women's leadership groups, including the Daughters of Penelope, as she recognizes the need for strengthening women roles in today's society. She has recently received The NJ VFW commendation Award medal and a New Jersey Joint legislative Resolution for her ongoing efforts with the New Jersey Veterans Network.
Kathy Maggiulli
Event Coordinator
Detective Maggiulli has served as a Patrol Officer in our Patrol Bureau, Traffic Unit and Community Policing Unit over the past 18 years. She is an active member of the Summit community, having founded the Officer Kat's Kid program to establish positive connections between the police department and young people in Summit.
"Detective Maggiulli is an exemplary member of the Summit Police Department," Chief Andrew Bartolotti explains. "Her empathy and passion make her an ideal candidate for the role of Detective. We are pleased to have her join the Detective Bureau where her presence will benefit the community tremendously."
Detective Maggiulli is a 2003 graduate of the John H. Stamler Police Academy where she was the recipient of the academic achievement award and Patrolman Anthony Lordi Jr. Memorial Award for outstanding scholarship and leadership in constitutional law. From 2009 to 2015, Detective Maggiulli worked as a per-diem dispatcher for the Summit Fire Department and from 2002 to 2003, as a dispatcher for Bernards Township Police Department. Detective Maggiulli is a 1998 graduate of Morris County College. She is currently pursuing a bachelor's degree in Public Administration from Farleigh Dickinson University.
Ryan Wares
Event Speaker
Ryan Wares joined the U.S. Army in 2005 and served until 2008 when he was medically discharged. Upon returning home, Ryan suffered from severe Post Traumatic Stress Disorder, which at times has been life altering and caused him to be hospitalized in 2017. After a brief stay at the hospital, Ryan was introduced to NJVN Director Michael Boll who now when he looks back, is a large reason why he is standing on his own two feet.
After spending time with Mr. Boll, Ryan was invited to become a mentor for the New Jersey Veterans Network. Currently, he hosts and plans events in South Jersey, and on several occasions been invited to speak on behalf of the organization. At these events, Ryan speaks about his time in the service and about his struggles in returning to civilian life. Ryan hopes that after sharing his stories and experiences, he would be able to reach those who struggle the same and give them a place of solace and safety.
Jeff Koeck
Event Speaker
Jeff Koeck is a veteran who served in the Marine Corps and later in the Army Airborne. While on a deployment in Afghanistan, he was wounded in action by a vehicle borne IED. The blast put him in the hospital for 19 months. When Jeff came home and still recovering from his last surgery, he was put in contact with the NJ Veterans Network. Jeff was very impressed with the charity and how it was tailored to help veterans like himself. After recovering, he was inspired to become a Police Officer where he is able to give back and help people who are going through their worst days.
Because of what the NJ Veterans Network was able to accomplish, Jeff decided to get involved and is now a board member and event speaker of the charity. Jeff is honored to be a part of the New Jersey Veterans Network.
Ken Burkert
Board Member
Ken Burkert served as a corrections officer for 25 years and as former Chairman of the New Jersey State PBAPeer Assistance Response Team (PART). He is a liaison to first responder organizations, facilitating the smooth transition of firstresponders to Princeton House Behavioral Health's First Responder Treatment Services and outpatient care within the community.Mr. Burkert's extensive knowledge of job protections under New Jersey law and confidential, 24/7 on-call availability benefits first responders.
Liz Meyers
Board Member
Elizabeth Meyers was born and raised in Brooklyn, NY. She enlisted into the Marine Corps in 1993. She attended Basic Training at Paris Island, SC. She also attended the Marine Corps Combat Service Support School, where she received training in the Administrative field. Upon completion of training, she was awarded the Military Occupational Specialty (MOS) 0151, Administrative Clerk. She served eight years in the Marine Corps. She then enlisted in the Army and was awarded the MOS 42A, Human Resources Specialist. She attended the Primary Leadership Development Course in the Army. Also, she was part of the Army Ten Miler team at Fort Drum. After serving honorably in the Marine Corps and Army, she enlisted in the New Jersey National Guard, where she was a government employee and National Guardsmen. She was stationed in Japan, Virginia, Fort Drum, and Fort Dix. She is passionate about advocating and empowering Solders and Veterans in need. While serving at Fort Drum, she was the President of the Better Opportunities for Single Soldiers (BOSS). As the BOSS president, she supported the chain of command by identifying quality of life (QOL) issues and concerns and by providing recommendations for QOL improvement for single soldiers.
She graduated from Florida Atlantic University in 2015 with a Bachelor of Arts in Psychology. Additionally, earned a Masters of Rehabilitation and Mental Health Counseling degree at Rutgers University. Currently, she is pursuing a PhD at Adler University. Also, she is a member of the Alpha Epsilon Lambda (AEL), a National Honor Society.
She is honored to serve as the Program Manager for Operation Sisterhood. She will use her military training and education to empower Female Veterans.
Vickie Boll
Board Member
Vickie Boll has spent most of her life, bringing joy and happiness to the people she meets. At a very young age, Vickie was diagnosed with autism and epilepsy. These conditions never slowed her down and she never made any excuses for who she is. She was able to graduate with honors from Celebrate the Children, a school for children with alternative learning styles, in Denville, NJ. While attending Vickie was involved in many of the school's charitable activities and fundraising functions, always looking for ways to give back and improve the community around her.
After graduation, Vickie felt she needed something bigger than herself and began focusing on charity work as a regular part of her life. Vickie now spends much of her free time volunteering for the New Jersey Veterans Network, a mobile outreach team that aggressively seeks out and improves the lives of veterans in need. Since 2017, Vickie has worked tirelessly to help veterans and their families through the distribution of food and clothing, organized and executed fundraising events, and actively participated in recreational therapy events. Additionally, she has helped with several veteran stand-downs and has traveled the state collecting life-changing resources. Recently, Vickie became a member of the Union VFW Auxiliary and cant wait to be a part of this incredible team. Vickie has been able to build a strong bond with the veteran community and is loved for all the hard charity work she has done for them. Most of all Vickie inspires so many with her upbeat personality and her commitment to help others live a better way of life. Our Veterans and their families are extremely fortunate to have someone like Vickie on their team and it is clear that she is always inspiring others to volunteer their time as well.
Eric Crafton
Board Member
Eric Crafton is a decorated Army National Guard member, committed law enforcement officer with a Masters of Administrative Science – Law Enforcement Administration, and mental health advocate who values dedication, service, and excellence.
Eric boasts over 15 years of Army training and his list of notable military awards sets him apart from his peers. Some highlights from his career include the Meritorious Service Medal, Army Commendation Medal, three Army achievement medals, two Army Reserve Component Achievement Medals, National Defense Service Medal, Global War on Terrorism Expeditionary Medal, Global War on Terrorism Service Medal, Armed Forces Service Medal, two Non-Commissioned Officer Professional Development Ribbons and the Army Service Ribbon. Most recently he directed and executed a successful operation during the COVID-19 pandemic at The Bergen County Vaccination Mega Site at the Meadowlands Racing and Entertainment Complex. In addition to his military honors, Eric has also been awarded Police Officer of the Month twice by North Bergen Police Department and recently earned the position of Field Training Officer where he guides and trains new officers to the police department.
In 2021 Eric received The Senate and General Assembly Joint Legislative Resolution signed by Senator Schepisi, Assemblyman Auth, and Assemblywoman DeFuccio for his outstanding work in Veteran Haven North with the New Jersey National Guard during the COVID-19 pandemic. That same year Eric also received a Resolution from the Bergen County Board of Commissioners for his work during the COVID-19 pandemic. Bergen County has designated May 4th as 'Eric Crafton Day for his meticulous and outstanding work during the COVID-19 pandemic including serving as the media spokesperson for The Bergen County Vaccination Mega Site at the Meadowlands Racing and Entertainment Complex. Prior to Eric working on New Jersey's COVID mission, Eric spent nine months deployed overseas on a security operation ensuring the safety of our military bases.
Eric prides himself on his ability to connect with all members of his community, especially those facing crises. This stems from his humble roots growing up with a single mother and his sister in New Jersey. Eric learned at a young age the impact that crime has on its' victims when his grandmother was the victim of a harrowing and violent robbery. Sadly, the perpetrator was never caught and his grandmother never fully recovered from her injuries. Even with her injuries, his grandmother never stopped loving the community she lived in and this made a big impression on Eric. Seeing the effects of crime on his own family, Eric vowed to enter law enforcement with a special eye on the mental health of both crime perpetrators and their victims.
As a decorated soldier and Certified Crisis Interventionist, Eric recognizes the struggle of active military re-entering civilian life and dedicates his free time to advocating for comprehensive and easily accessible medical care for soldiers and their families. Since 2020, he has volunteered his time to serve as the Vice Commander of American Legion Post 18 where he offers a sense of community and source of support for soldiers and their families.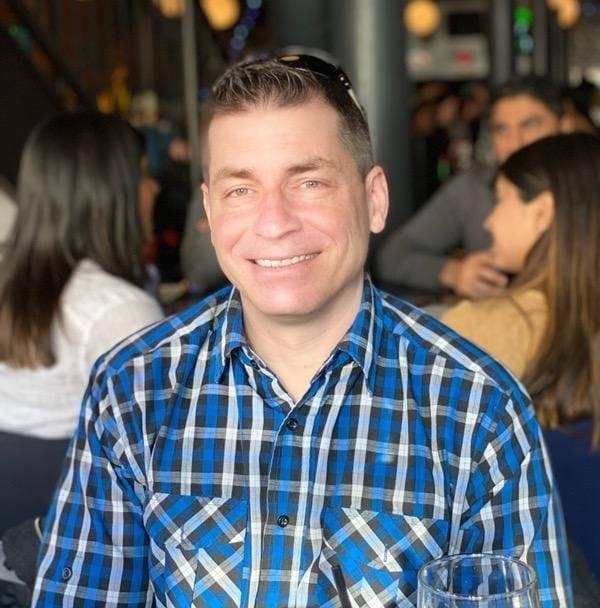 Jeremy Carey
Web and Media Director
Jeremy is the Web and Media Director for the New Jersey Veterans Network. He is a graduate of Union High School and earned a degree in Mathematics from Seton Hall University. He currently works as a Software Engineer for a technology firm in New Jersey.
He enjoys volunteering for charitable organizations and has provided services for Autism, Veteran and Children's charities. His inspiration for helping veterans can be traced back to his grandfather, who served in the US Army during the Korean War.
Jeremy was recently awarded a NJVN appreciation-plaque, the NJ VFW Commendation Award medal and a New Jersey Joint Legislative Resolution for his contributions to the New Jersey Veterans Network.
Jeremy resides in New Jersey with his wife and three children.